RNA vaccines in focus
Based at bluefactory since 2013, LS Instruments is going through a key phase of its development. The company recently opened its affiliate in the United States, adding to its existing global network of 18 partners. LS Instruments' products are currently present in 34 countries.
LS Instruments
03/10/2022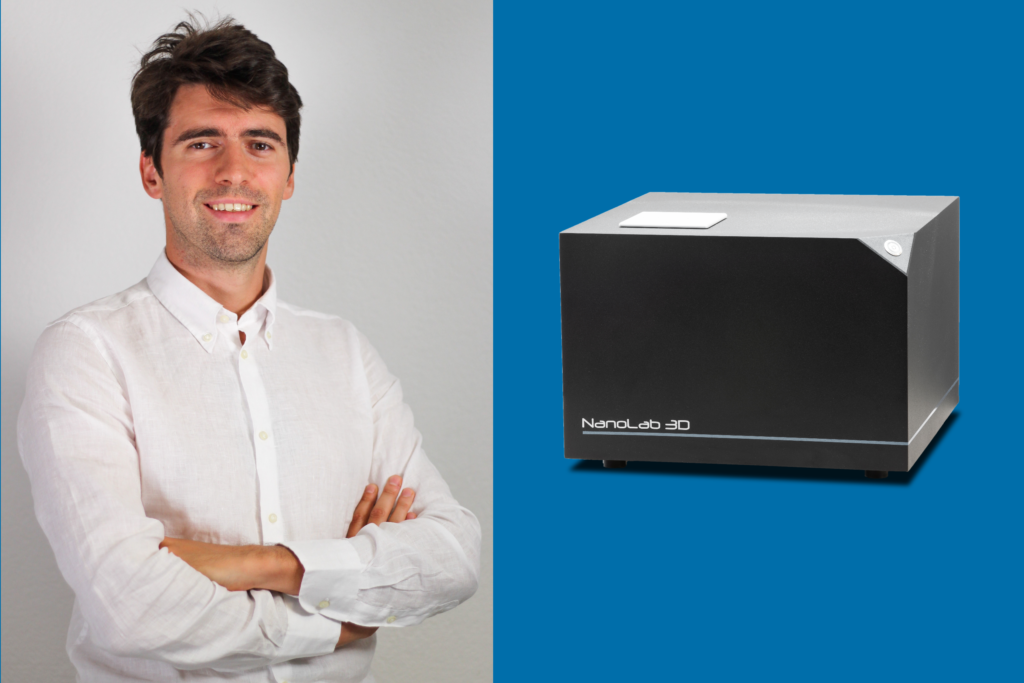 LS Instruments is flourishing. Opening only a couple of months ago, the new US branch has already had a big impact on sales. And the company has just made a breakthrough in the field of vaccines, working with its Swiss-based partner Solvias, a world leader in pharmaceutical research, development, and contract manufacturing (CRO/CDMO*). The results of this collaboration are due to be published imminently. CEO Dario Leuman is enthusiastic about the new development, "We have identified the perfect niche in vaccine formulations for one of our products."
LS Instruments is growing to meet the new opportunities and today employs 14 people. The only blip on today's horizon is the previously burgeoning Chinese market, which is still well below pre-COVID levels.
LS Instruments was founded in 2010 by Professors Peter Schurtenberger and Frank Scheffold, both soft materials physicists. Their mission, to optimise light scattering technology in materials analysis because existing technologies were not effective with concentrated samples. The two researchers focused on solving this problem, extending light scattering technology to enable the reliable characterisation of turbid and highly concentrated samples.
LS Instruments' technologies were initially developed for the research sector and the company's first customers were academic institutions. Then followed a development process to adapt the devices for use in industry. Manufactured in Fribourg, the instruments have found a wide range of industrial applications which promises well for future growth.  "The validation of a new scientific technology always takes time," explains Dario Leumann. "First, the technology needs be taken up by university research departments. Graduates who have used these technologies at university tend to introduce them into their company when they get jobs in industry, so a strong university presence is an integral part of marketing our products."
LS Instruments offers four products for industrial use:
DWS RheoLab, an optical rheometer,
NanoLab 3D, a compact DLS instrument for measuring the size of nanoparticles,
LS Spectrometer, a light scattering instrument for the characterisation of nanoparticles,
LSI Correlator, a digital correlator.
The company has identified four key industrial sectors for their products:
Pharmaceuticals,
Chemicals, for everything related to nanosystems,
Food and Drink, for protein analysis, for example with dairy products or the creation of new vegan products,
Personal care, for the composition of cosmetics.
Pharmaceuticals seem to offer the most significant potential, but there is still a big step to be taken before breaking into this market. "For now," explains Dario Leumann, "pharma companies use our products in R&D. Our next step is to offer instruments they can use in quality control to help them meet legal and regulatory requirements for marketing their products. We need to develop hardware and software that will make our instruments compliant with drug certification demands. That way, pharma companies will be able to integrate our devices into their data gathering and reporting processes."
Dario Leumann goes on to explain why vaccine formulation is such a promising opening. "Vaccines are highly concentrated products. Before our instruments were available, it was not possible to analyse vaccines with light scattering technology. With the new RNA vaccines, the active ingredient is encapsulated in nanocapsules. Given the size of the spheres and the concentration of active ingredients, it is difficult to characterise them with the usual technologies and it is precisely here that our technology brings big advantages for industrial applications."
Today, LS Instruments sells a double-digit number of devices a year. All are assembled at bluefactory using pre-assembled parts supplied by partners. The company feels at home on the site whose location is a big plus for employees. "This is a highly specialised workforce. They often work with partners in other Swiss cities so it's a big advantage to be five minutes from the train station. As well as our close historical links with the University of Fribourg, we are also very well situated between the university centres of Zurich, Lausanne and Bern."
* CRO – Contract Research Organisation, CDMO – Contract Development and Manufacturing Organisation.