Founded in 2014, BFF SA aims to develop, build, operate, promote, and bring life to the innovation district located on the former site of the Cardinal brewery. It is the sole owner of the bluefactory site, with the Canton and the City of Fribourg being equal shareholders.
Competence centers & clusters
m²
(site area according to PAC)
Positioning
BFF SA's mission is to develop, build, operate, promote, and bring life to the bluefactory innovation district. Its main objective is to build and lease low-carbon surfaces for companies and technological platforms that meet the requirements of its charter. Five thematic pillars (see diagram) structure the development of the site's activities around a clearly defined vision:
In the heart of the canton's capital, this site with its industrial DNA aims to become a gold standard for sustainable development, bringing innovation to life and continuously testing its limits in all dimensions, whether scientific, industrial, social, or cultural.
A pioneer in the habitat of the future, bluefactory aims to create synergies, unite interdisciplinary solutions, and facilitate industrial partnerships. It acts as an incubator of ideas and synergies, connecting all the companies located on the site with project leaders and partners. To accelerate innovation, it can count on the presence of EPFL Fribourg, technological platforms from the University of Engineering and Architecture (HEIA-FR) and the University of Fribourg. Labelled low carbon, bluefactory is cited as an example in its efforts to promote sustainable development and the circular economy. Thanks to its innovative water management programme, it is to be Switzerland's first Sponge City.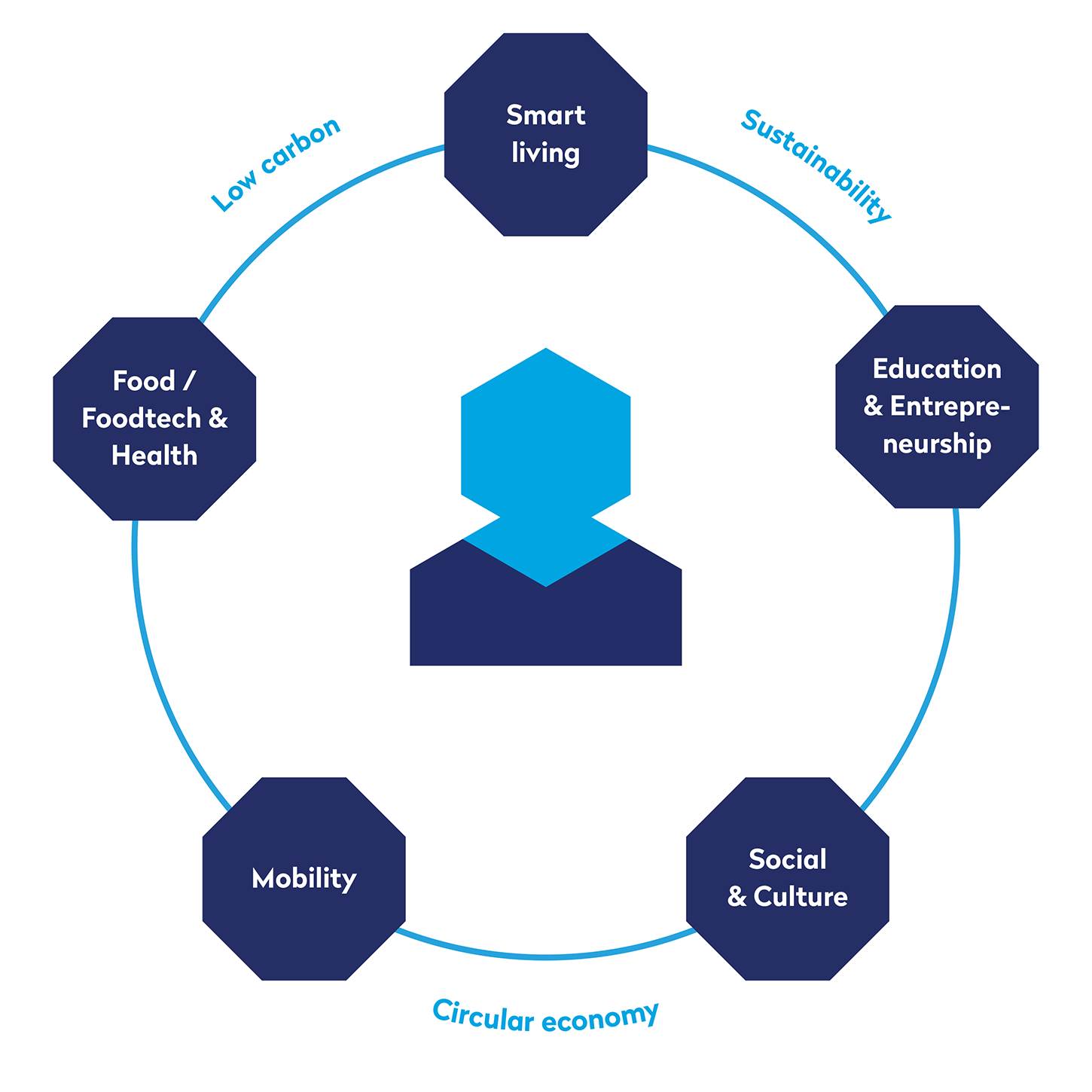 Jacques Boschung
President
Olivier Curty
Vice-President, State Councillor representing the Canton of Fribourg
Mirjam Ballmer
Town councillor, representing the City
Robert Giezendanner-Thoben
Member
Géraldine Pflieger
Member
Philippe Jemmely
Director
Emanuele Cordioli
Office manager
Chloé Mühlemann
Administrative assistant
Véronique Grady
Communication manager
Virginie Dulucq
Project Manager
Gianfranco Quaranta
Project Manager
Débora Alcaine
Socio-cultural producer
Fabio Burri
Manager Hospitality & Services
Sébastien Macherel
Facility manager
Vincent Bugnon
Operating Agent
Management and administration
Cultural events ⋅ Neighbourhood life
Rental of office spaces and prototyping rooms
Photo of the president
Jacques Boschung
Photos of the director
Philippe Jemmely
© All rights reserved
(See name of downloaded file) 
Building B

© All rights reserved
(See name of downloaded file) 
Smart Living Lab Building

© All rights reserved
(See name of downloaded file) 
Wood-iD
© All rights reserved
(See name of downloaded file) 
Blue Hall
© All rights reserved
(See name of downloaded file) 
bluefactory site
© All rights reserved
(See name of downloaded file) 
Corporate idendity (logos, fonts…)