A 35% reduction in CO
2

emissions linked to a marked decline in business travel

Once again in 2021, most of bluefactory's carbon footprint was generated by mobility and grey energy. A 35% decrease in emissions has been observed since 2019, when data were not affected by the pandemic. This seventh consecutive carbon footprint validates the measures taken in recent years and is highly encouraging in view of the site's continuing growth, including a new building and additional jobs.
Carbon footprint 2021
08/07/2022
In collaboration with Climate Services, a report is carried out each year to measure the bluefactory site's carbon impact. Since 2015, CO₂ emissions per FTE (full-time equivalent) have been reduced by 60%, while the number of people in the innovation district has almost doubled.
For the year 2021, the site produced 250 tCO₂, of which 180 tCO₂ were attributable to general operations and 70 tCO₂ to grey energy (approximately 30%). Grey energy emissions increased by five tCO₂ due to the construction of Wood-iD. This increase corresponds to amortised grey energy from the reassignment of the Blue Hall and the construction of Wood-iD as well as to the installation of photovoltaic panels. Grey emissions from the construction of Wood-iD were quantified using the volumes of the various materials used, the work required on site and technical elements. The choice of indigenous materials and local partners has made it possible to limit the carbon impact in terms of construction and transport. Wood-iD is also a showcase for upcycling with various elements recovered from the demolished Annex 2 (façade sheets and lighting) or from second-hand materials suppliers (sanitaryware).
Mobility accounts for most of the bluefactory site's carbon footprint. Commuting and business travel generate 74 tCO₂ and 38 tCO₂ respectively, equivalent to 63% of general operational emissions (total emissions less grey energy). Post lockdown, the district's CO₂ emissions increased by 48 tCO₂, mainly due to the resumption of mobility. As for the number of employees, it has passed the 360 mark, corresponding to more than 260 FTEs (236 in 2020). With the resumption of operations, annal emissions per FTE increased from 0.56 tCO₂ to 0.67 tCO₂ (emissions from general operations). This figure is encouraging because for the first time outside the pandemic period it is below one tCO₂. It reflects the decrease in business travel following the lockdown. Whether this can be explained by a less marked recovery in commercial activities and face-to-face meetings is a trend to be confirmed in 2022.
New tools for the local economy
In collaboration with various partners, BFF SA is developing and testing, from 2022, a methodology and systemic planning tools to define carbon footprint on a neighbourhood scale. This approach will make it possible to measure the CO₂ and financial impacts to support project owners in their decision-making.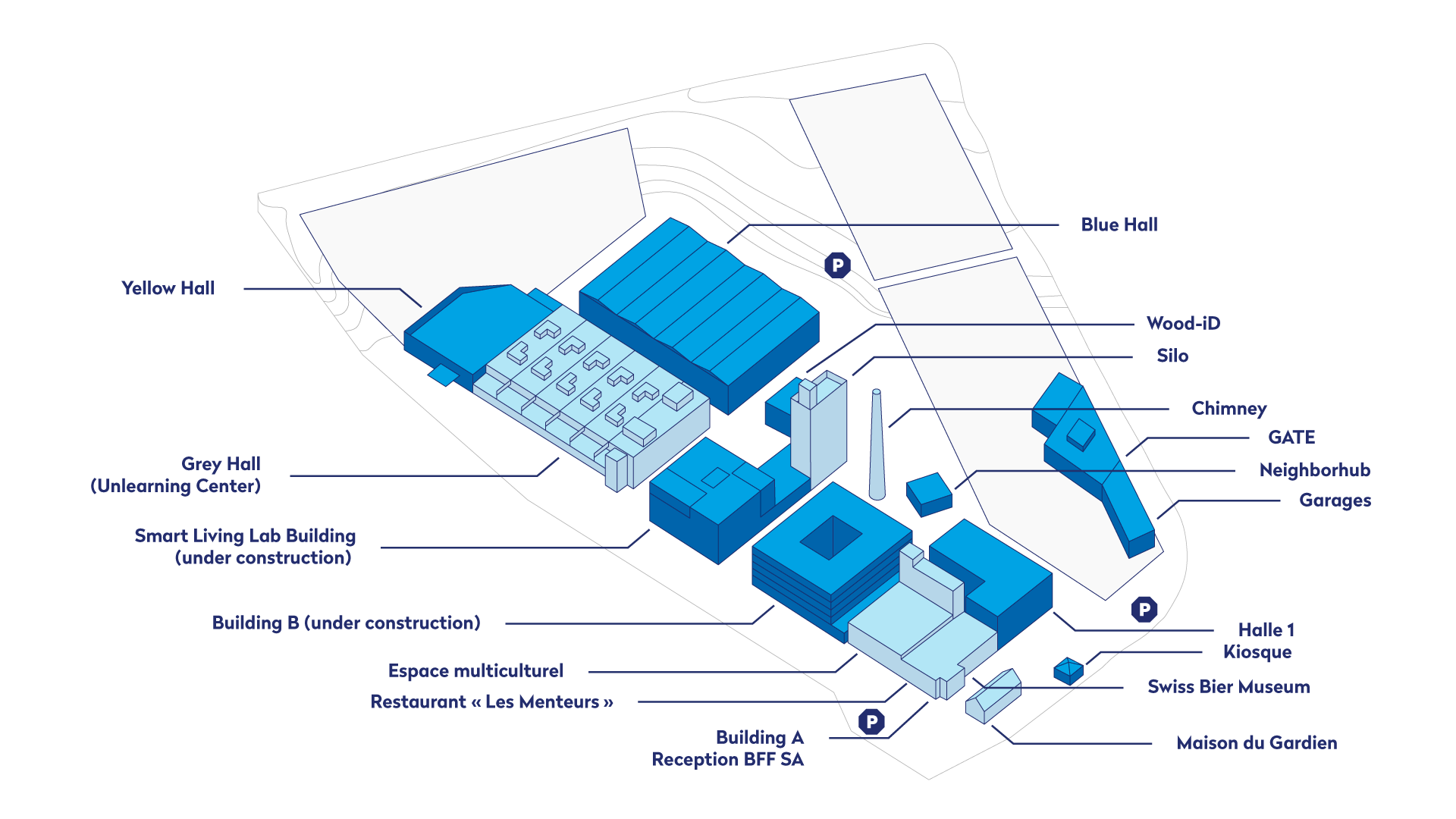 About BFF SA
Founded in 2014, BFF SA's mission is to develop, build, operate, promote and animate the bluefactory low-carbon innovation district. The district now has more than 360 people active in about sixty entities (SMEs, start-ups, innovation promoters and university research) and upholds the principles of sustainable development as well as those of the circular economy.