Improvements in bluefactory companies' energy efficiency
Since introducing onsite carbon footprint records, bluefactory has managed to reduce its environmental footprint by almost 50%, while the number of people working there has more than doubled in six years. Mobility-related emissions have grown with the economic recovery and the increase in jobs but remain well below those of 2019 due to companies' energy efficiency efforts. The embodied energy of future buildings and infrastructures is a subject of particular focus.
Carbon footprint 2022
24/07/2023
In collaboration with Climate Services, a report is carried out every year to measure the bluefactory site's carbon impact. Current CO₂ emissions per FTE (full-time equivalent) are at one third of 2015 levels, while the number of people in the innovation district has more than doubled. Emissions generated by the bluefactory district's general operations amount to 229 tCO₂. Last year (2022) saw a tCO₂ (+27%) increase due to economic recovery following the health crisis. Mobility accounts for more than half of these emissions (131 tCO₂). For commuting, the values recorded are close to those of 2018, but with a 20% increase in the number of jobs, partly explained by teleworking. Business travel has seen a drastic decrease since the COVID-19 pandemic in parallel with a marked preference for videoconferencing in the interests of energy sobriety.
The main challenges in terms of CO₂ emissions relate to mobility and to the embodied energy of buildings. The impact of mobility will gradually decrease with the electrification of the vehicle fleet and the minimization measures planned on the site. However, embodied energy will increase with new construction projects and, taking annual depreciation into account, this will persist throughout the buildings' lifetimes, well beyond 2050.
Since 2022, BFF SA, in collaboration with Climate Services and HEIA, has been carrying out measure E.2.5 of the cantonal climate plan "Support for the approach of an exemplary district towards zero net carbon". The project consists of developing a comprehensive approach to managing CO₂ emissions, from the planning phase to a building's operation. The work began with the development of tools for calculating carbon budgets and quantifying grey emissions from buildings. Monitoring the construction site of Building B makes it possible to test these tools and optimize interaction with companies in the collection of the necessary data.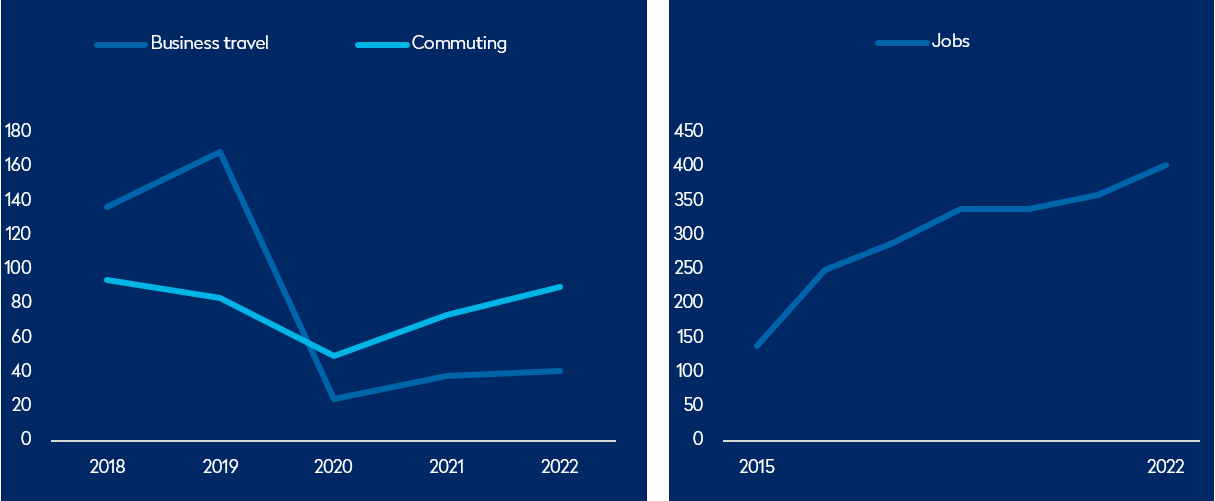 About BFF SA
Founded in 2014, BFF SA's mission is to develop, build, operate, promote and animate the bluefactory low-carbon innovation district. The district now has more than 400 people active in about sixty entities (SMEs, start-ups, innovation promoters and university research) and upholds the principles of sustainable development as well as those of the circular economy.