OPEN DAYS 2023
From May 20 to 24 2023, bluefactory presents itself in all its diversity
OPEN DAYS
Bluefactory district
20-24/05/2023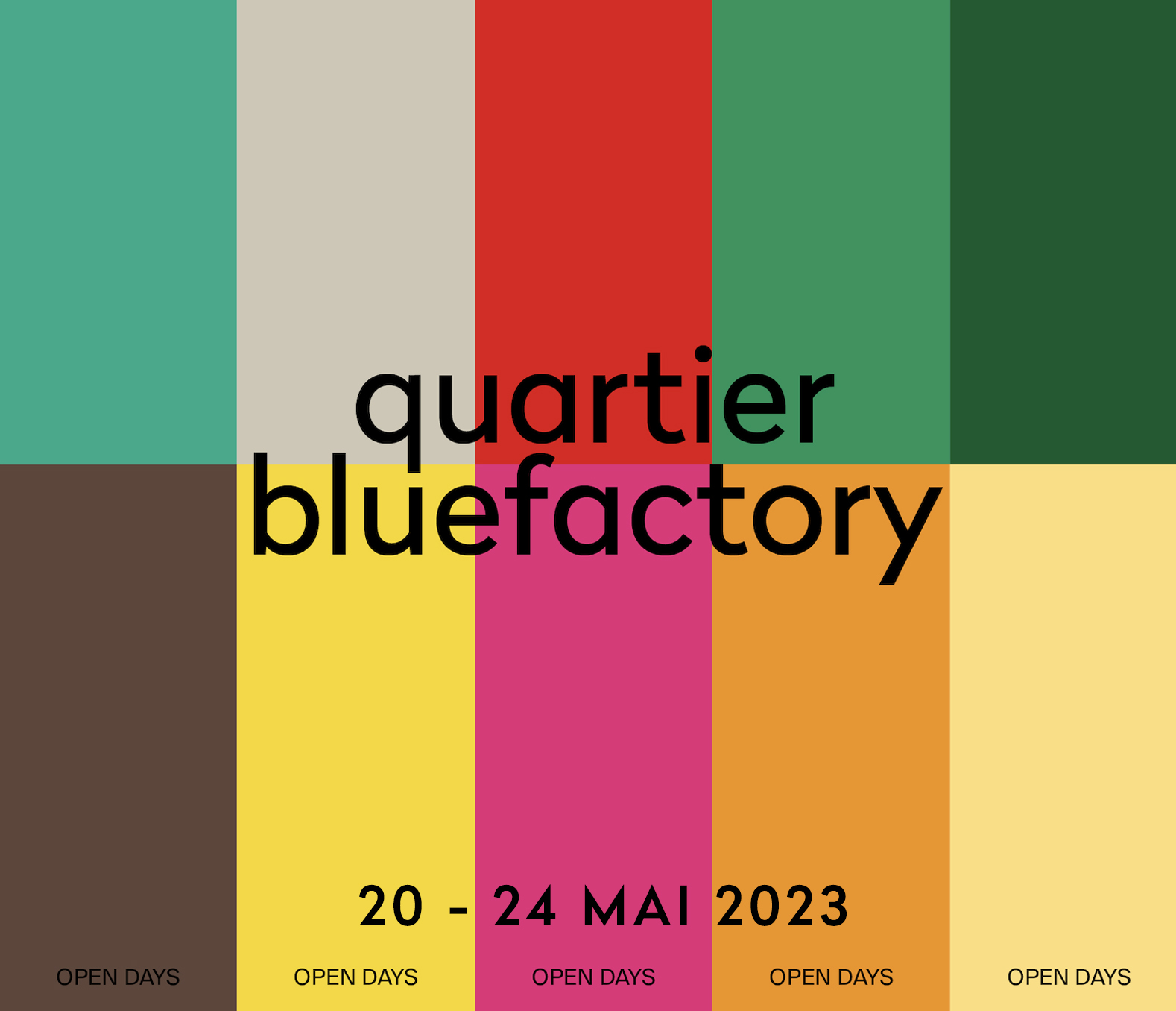 Living the neighborhood!
At the heart of an emblematic place, the bluefactory district is dedicated to the citizens of the future. Through its urban integration, the low-carbon innovation hub enjoys a programmatic mix that is unique in Switzerland.
From 20 to 24 May 2023, bluefactory is showcasing its diversity: doors will be opened to the public giving visibility to constantly expanding activities in this neighborhood and allowing visitors an overview of current practices and future projects.
After a first experience in 2022, the OPEN DAYS will begin this year on the weekend of May 20/21 with the PASSAGE festival of the cultural organization Point76 – one of the actors of the innovation district – and will continue over 3 days of the week with a parcours of specific moments of presentations in the various laboratories, organizations and companies on site.
Saturday 20
10:00
Guided tour through the bluefactory district with Martin Schick, cultural manager, for all audience and media
Meeting point: Check-point at the entrance, Passage du Cardinal 1
10:00-12:00
Open : Case-à-stock : Bibliothèque d'objets – Garages
10:00-14:00
Open : La Ressourcerie & Sous-Marin Jaune – Grey Hall
10:00-13:00
Open : Vélosalon with Pignon sur Strass & Pro Vélo – Garages
With a presentation of the project 'Ride for the Future' of the association Urumuri
12:00
Guided tour of the HUB with Débora Alcaine, socio-cultural production manager – the HUB
13:00
Meet the Compost Club : touching the ground !? – At the entrance on the right side
02:00-05:00
Open : FERMENTARIUM at the Swiss Beer Museum
15:00-20:00
Live DJ'ing : TRNSTN RADIO – Place Foresque
(15:00–16:00 Talk with Madeleine / 16:00–18:00 Temporal Variation / 18:00–20:00 Teinture Mère)
15:00
Guided tour with SMEM (swiss museum for electronic music instruments)
Register here: culture@bluefactory.ch (limited access)
13:00-23:00
Festival Passage with the collective Point76 – www.point76.ch/festival
Sunday 21
11:00-23:00
Festival Passage with Point76 – and with a brunch at Les Menteurs – www.point76.ch/festival
14:00-17:00
Open : FERMENTARIUM at the Swiss Beer Museum
14:00-18:00
TRNSTN RADIO live DJ'ing (14:00 Voyage Voyage / 16:00–18:00 Dolorès)
16:00
Presentation of the mycelium installation of the Charlatan association – FERMENTARIUM
16:00-18:00
Open : Saunana (mixte) – Place Foresque
Monday 22
11:00
Presentation of BIM by infraSMART and partenariat with Trimble – in the Igluna pavilion – Place Foresque
11:30
Open doors at iRAP – Hall 1
12:00
Le repas du HUB with Couscous et Tajine – the HUB
13:00
Wanna touch the sky ? Visit the top of the Silo
Meeting point in front of the Silo at 13:00 sharp
13:30 – 14:30
Open : New photo studio of Stemutz – Building A
14:30-17:00
Open : Smart Living Lab – Blue Hall
With a presentation of the future of the Smart Living Lab for the BUILD2050 team and a light electric vehicle for the Kyburz company
19:00-21:00
Open : Saunana (mixte) – Place Foresque
Tuesday 23
09:00-12:00
Open doors at Pouponne & Loulette, coffee production workshop – Les Menteurs
12:00
Open air demonstration of the autonomous vehicle, operated in distance from the office of ROSAS, RDV in front of the Halle Bleue
13:00
Presentation of the Fermentarium with a mycelium installation of the association Charlatan
13:30
Little coffee break at the office of the Cluster Food & Nutrition – wood-iD
14:00
Visit Bcomp – Hall 1
14:30
Visit Plastic Omnium New Energies Fribourg – Hall 1
17:00
Lightning Talks : knowledge exchange and kombucha bar with new cocktail recipies (with Vera Fischer and the project BUILD2050 amongst others) – STERN Cinema
18:00-20:00
Open : La Ressourcerie and Sous-marin Jaune – Grey Hall
18:30-21:30
Open : FABLAB Fribourg – Maison du Gardien
19:00-21:00
Open : Saunana (mixte) – Place Foresque
Wednesday 24
12:00
Open air demonstration of the autonomous vehicle, operated in distance from the office of ROSAS
Meeting point in front of the Blue Hall
13:00
Visit the building B with Gianfranco Quaranta
15:00
Transitecture Café : Presentation of the urban renewal project with Virginie Dulucq (BFF SA) and Célia Pépin, architecte paysagiste VWA – the HUB (limited access)
16:00
Guided tour of R&CO (Expo Leticia Perrenoud) with Débora Alcaine – the HUB
16:30
Afterblue, aperitif organized by BFF SA with presentation of a new urban furniture by Minus3 – around the HUB
17:00-21:00
DJ-set de Babouchka on TRNSTN RADIO
20:30
Concert at Unlearning Center, project dome of the platform TEAR, in collaboration with the collective État des Choses