Community life
More than a technology park, bluefactory is an innovation zone. Its urban integration, identity mix, wide range of activities and the originality of its infrastructure make it a place that is brimming with life, appealing not only to the people who work there, but also to the local population. It is home to innovative companies, academic entities, and research centres, as well as craftspeople promoting upcycling, cultural institutions, shared gardens, and great places to eat. A melting pot that makes this place a one-of-a-kind "must-see"!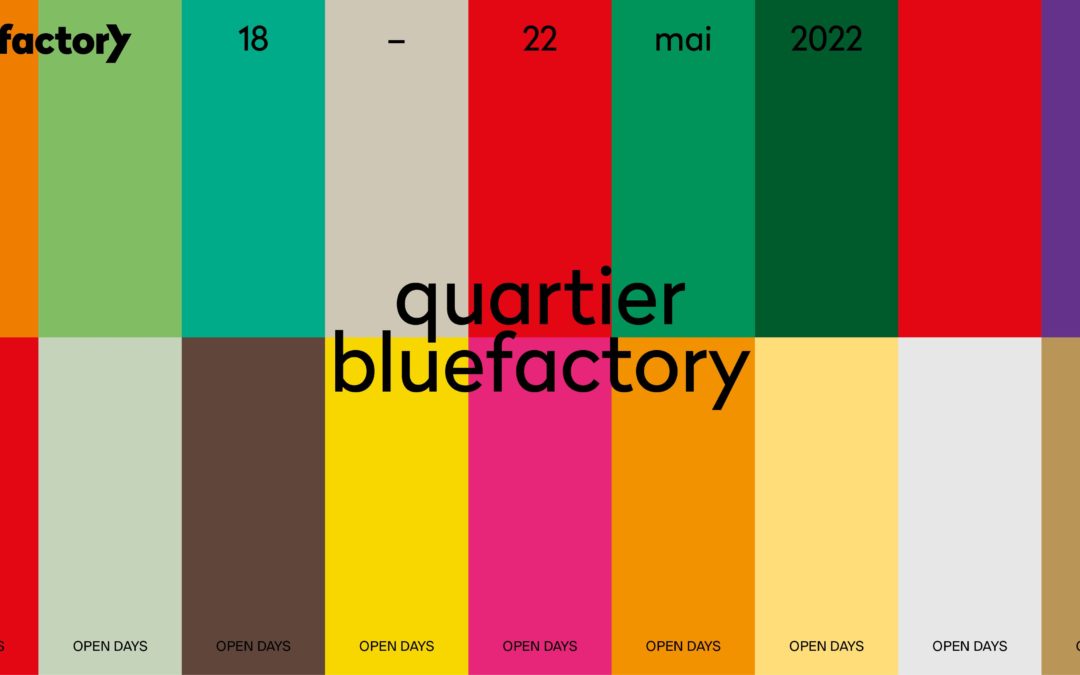 OPEN DAYS - Living in the bluefactory district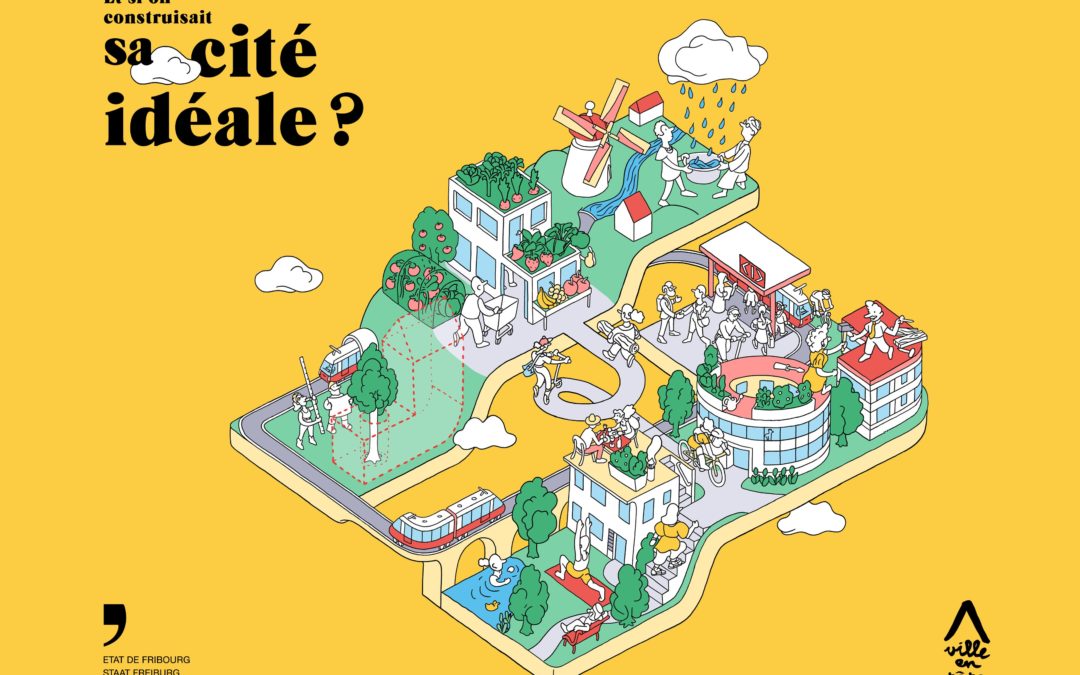 Ideal City Exhibition - Unlearning Center (Grey Hall)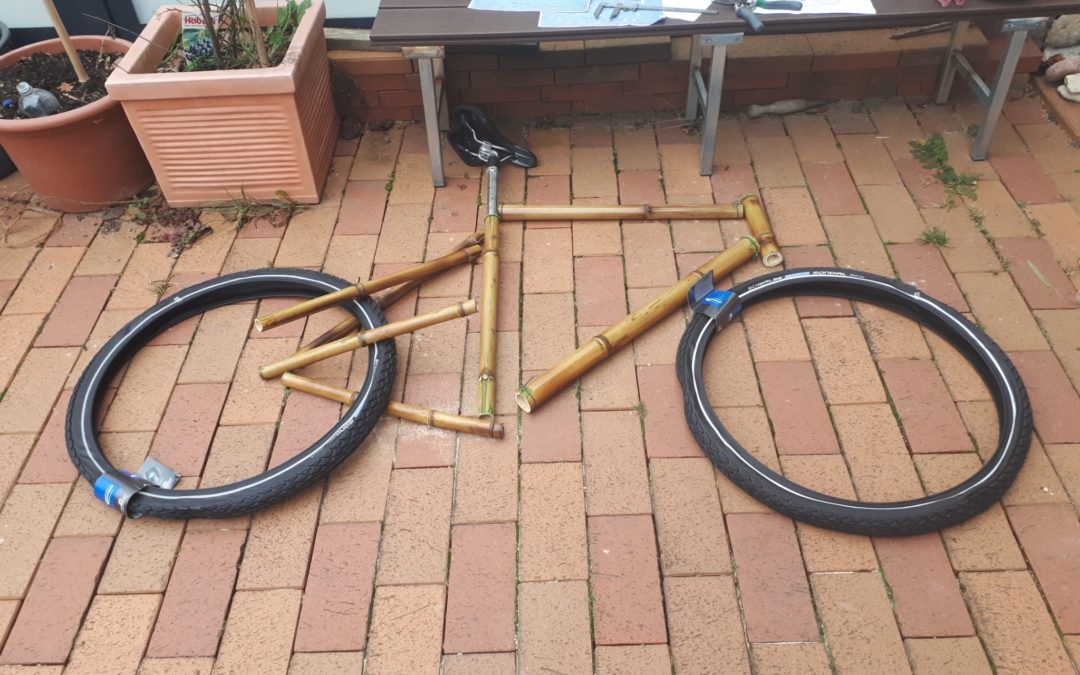 Recycling bicycles - Neighborhub
BFF SA
Bâtiment A
Management of the bluefactory innovation district
Amos Advisory
wood-iD
Consulting in sustainable finance and corporate responsibility
Atlas Photonics
Boîte
Design and marketing of ultraviolet light sources
BCC – Biofactory Competence Center
Halle bleue
Biopharmaceutical competence centre
Bcomp Ltd.
Halle 1
Composite materials made from natural fibres
BIC – Building Innovation Cluster
Boîte
Networking and innovation platform for construction and energy companies in Western Switzerland
Case à stock
Bâtiment A
Library of useful objects
CCRB
wood-iD
Competence centre in building renovation
Climate Services SA
wood-iD
Specialist in CO2 management in companies
Cluster Food & Nutrition
wood-iD
Elionova AG
Halle bleue
ive diagnostic platform and in-vitro diagnostic products for human and animal health
Enoki Sàrl
wood-iD
Imagine, build, and activate the sustainable city of tomorrow
Fablab-Fribourg
Maison du gardien
Provision of digital manufacturing tools
Frank®
Bâtiment A
Communication, marketing, and advertising
Fri Up
wood-iD
Free support for Fribourg start-ups
Gradiom Sàrl
wood-iD
Expert in scientific engineering
HireVibes Services SA
Boîte
Recruitment for the fintech and blockchain market
INNOSQUARE
wood-iD
Technology and innovation platform
ITN Sàrl
wood-iD
Competence network focusing on laboratory automation and instrumentation control
Karakter Graphic Design Sàrl
Bâtiment A
Premium Graphic Design Studio
Kompotoi AG
Halle grise
Rental of wooden dry toilets
Kulturagent.innen Schweiz für kreative Schulen
Halle 1
Cultural education and pedagogical development
La Parfaite Food Lab
Garage
La Ressourcerie
Halle grise
Competence centre for re-use of objects and materials
Le Sous-Marin Jaune
Halle grise
Open collaborative workshop
Local'ice SA
Boîte
Soft ices and granitas of the terroir, made ethically and authentically with natural ingredients
LS Instruments SA
Bâtiment A
Light scattering measuring tools
Lumo Swiss
Boîte
Sustainable bio safety solutions for your business and home
MIHM Consulting GmbH
Bâtiment A
Mitipi AG
wood-iD
Platform for home security
Multitec Léman SA
Bâtiment A
Nasca Formation Sàrl / SeMo Coaching
wood-iD
Individual coaching for initial training
Neuria Sàrl
Boîte
Digital therapies to improve public health
Particle Vision GbmH
wood-iD
Specialists in dust and material analysis
PICC – Plastics Innovation Competence Center
Bâtiment A - Halle 1
Plastics competence centre
Plastic Omnium / Swiss Hydrogen SA (SH SA)
Halle 1
PEM fuel cell technologies
PMS – Process Management System Sàrl
Halle bleue
Process optimisation consulting
Point76
Halle grise
Cultural collective for events organisation
PPP Sàrl – Cantine éphémère (Les Menteurs)
Bâtiment A
Rondechute Sailbags GmbH / Atelier Tissus de couture
Garage
Sailcloth bags and accessories
ROOMZ SA
wood-iD
Workspace management and optimisation
ROSAS Center Fribourg
Halle bleue
Competence centre for embedded and secure systems
RS Switzerland SA / Recommerce Swiss
Bâtiment A
Reconditioning electronic devices
SICHH – Swiss Integrative Center for Human Health
Halle bleue
Human health competence centre
smart living lab
Halle bleue
Research centre dedicated to the habitat of the future
SMEM – Schweizer Museum für elektronische Musikinstrumente
Garage - Halle 1
Swiss centre and museum for electronic music instruments
Sugarcube Information Technology Sàrl
Bâtiment A
Processing, editing, and exporting PDF files
Swiss Bier Museum
Bâtiment A
History of beer and the Cardinal brand
Swiss Game Center
Boîte
Business, educational, and cultural promotion of video game creation
Swiss Plastics Cluster
Bâtiment A
Sharpening your competitive edge in plastics
Urbanwood Sàrl
Boîte
Infrastructure to facilitate soft mobility in urban and peri-urban areas
VEENA VICTORIA LLC
Boîte
A sparkling communication experience
Yord Sàrl
wood-iD
Optimal regulation and energy consumption reduction of HVAC installations
Alexis Thiémard
Halle grise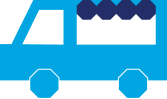 At the entrance of the bluefactory site
11:30 – 13:00
Cuisine with local and homemade products 
Cuisine with local and homemade products 
Burgers ⋅ Sandwiches ⋅ Soups ⋅ Salads
Carbon footprint
In collaboration with Climate Services, audits are conducted every year on the bluefactory site to measure its carbon impact. Since 2015, CO₂ emissions per FTE (full-time equivalent) have been reduced by 60%.
Between 2019 and 2020, the total emissions generated by the site decreased by 49% to 196 tons of CO₂. This result is notably due to the impact of the Covid-19 pandemic on mobility, with business trips falling by 85% and commuting by 41%.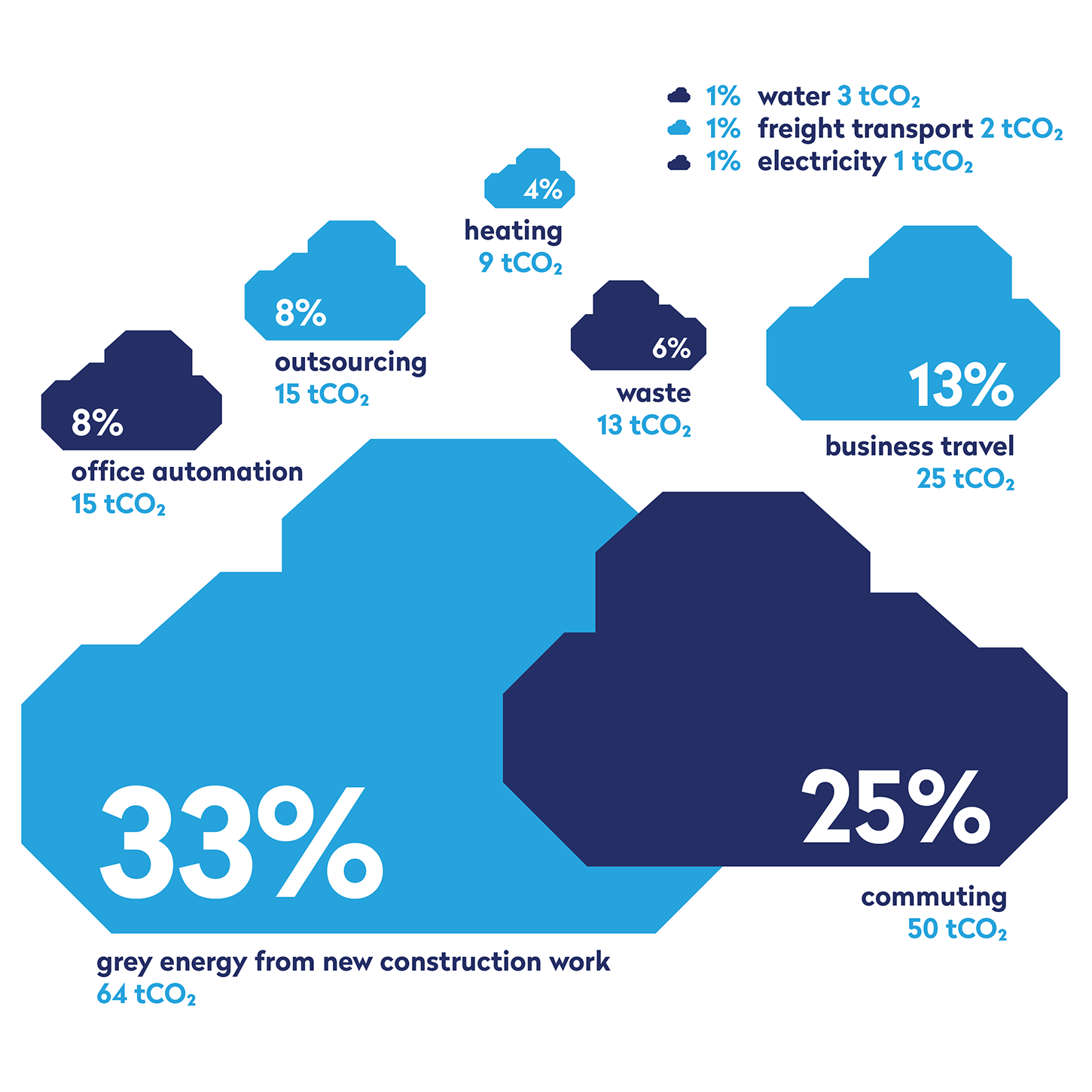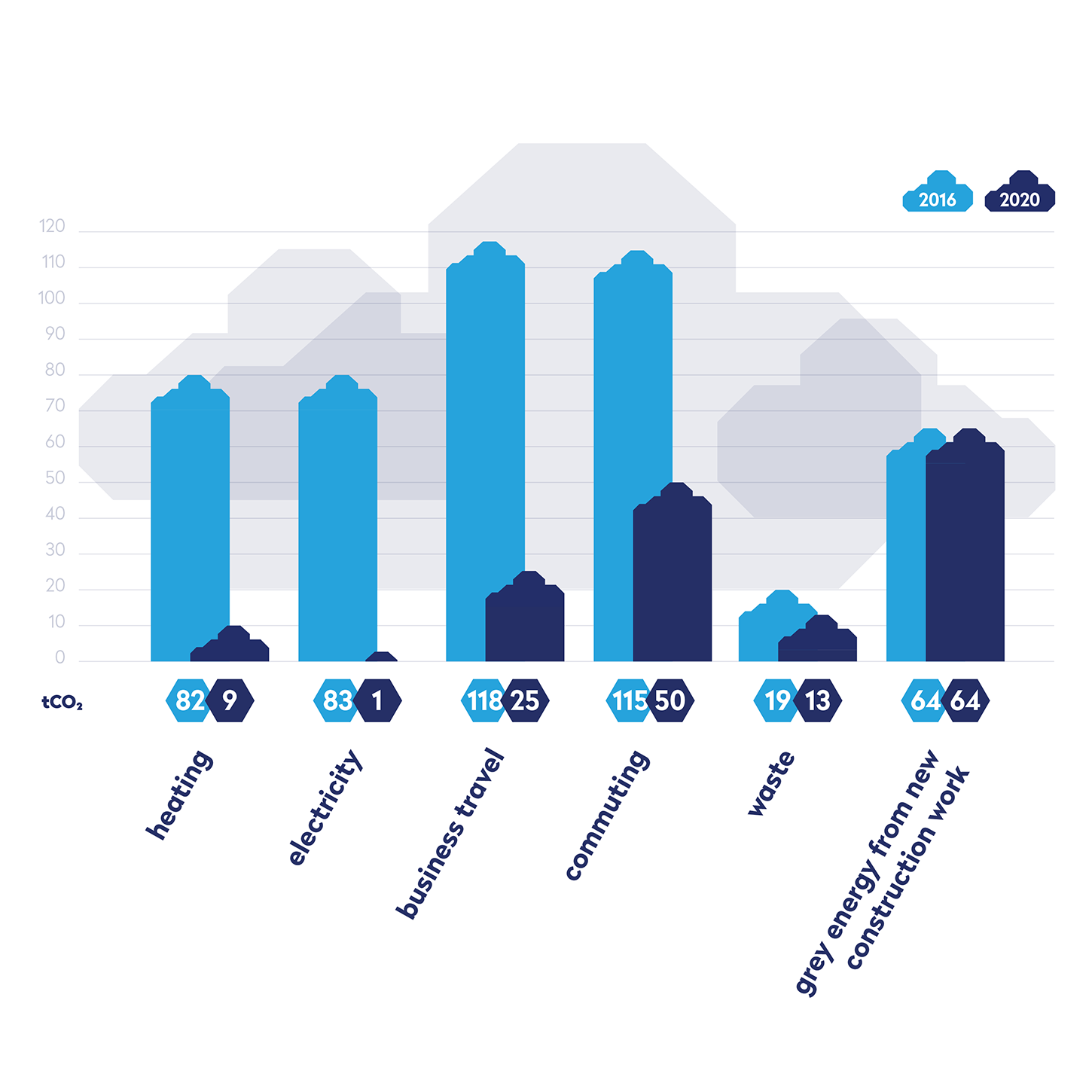 Mobility-related
emissions
Emissions from
grey energy